Cosmetic Dentistry Fresno, CA
Cosmetic dentistry services can help correct minor and major cosmetic issues with your teeth and smile. The right procedure can turn an average grin into an impressive smile. Your smile is your gift to the world, and cosmetic dentistry can transform how you look.
New materials and technologies have changed the practice of cosmetic dentistry and given you a wide array of cosmetic dental services to choose from. Don't make the decision alone. Instead, seek out the expertise of a skilled cosmetic dentist like Dr. Artashes Avakian at Professional Dental Care in Fresno, CA.
Cosmetic Tooth Colored Fillings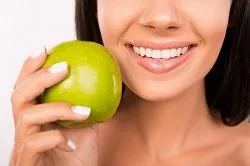 If you have old, unsightly metal fillings, they can be replaced with cosmetically beautiful tooth-colored restorations. People will notice your smile and not your fillings.
Bonding
Composite bonding uses a tooth-colored liquid resin which is sculpted perfectly to match your tooth and then hardened with a special ultraviolet light. Tooth bonding can close small gaps between teeth, change the color of your teeth, and cover small chips and cracks.
Contouring & Reshaping
Contouring and reshaping can cosmetically straighten or correct overlapped, cracked, chipped or crooked teeth. It can be done as a stand-alone procedure or in combination with composite bonding to achieve the look you want.
Veneers
Porcelain veneers are thin sheaths of porcelain placed on the front of the teeth to improve their overall appearance.
Veneers are used to correct teeth that are:
Badly shaped, broken or poorly aligned
Heavily stained or discolored
Chipped and cracked from age-related wear
Spaced apart or slightly overlapped
Teeth Whitening
Professional teeth whitening treatments can whiten your teeth up to eight shades. You can choose from an in-office procedure at our Fresno, CA dental office (which takes about an hour), or a convenient take-home kit you can use in the privacy of your home.
Invisalign
Invisalign is the state-of-the-art virtually invisible way to straighten your teeth. Invisalign treatment uses comfortable, clear plastic trays called aligners to gradually shift your teeth. There are no metal wires or brackets like that of traditional braces. The aligners are also removable so you can take them out for eating and to brush and floss making them more convenient than braces. The entire Invisalign process takes about 9 to 15 months depending the individual's case.


Cosmetic dentistry can change your smile for the better! With so many options to choose from, don't make the decision alone. Schedule a consultation with Dr. Avakian at Professional Dental Care in Fresno, CA. Call (559) 447-5454 today and be on your way to a great smile!